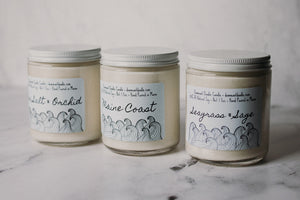 A popular flower used for Hawaiian leis, plumeria is a uniquely sweet and juicy smelling flower. Infused with the essence of the sea, this summer scent has aquatic notes that give the fragrance an added depth.
This fragrance is infused with essential oils, including clove leaf, ylang ylang, and jasmine.
Note Profile:
Top: Sea salt
Middle: Jasmine, Lily of the Valley, Plumeria
Base: Light Musk
Our 9oz jars are single wicked and great for most rooms that do not have high ceilings.