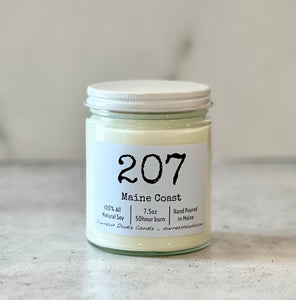 It's the 207 - Maine, Vacationland, The Way Life Should Be, ALL the things! In your choice of fragrances.
We recommend our signature White Birch (Maine Woods) scent , like breathing in pure Maine air!

Notes ~
Top: Eucalyptus, Mint
Middle: Cypress, Pine
Base: Tonka Bean, Smoke

This fragrance is infused with natural essential oils, including fir needle, cedarwood, eucalyptus, patchouli, and cedar leaf.
Our 9oz jars are single wicked and great for most rooms that do not have high ceilings.